Willowood
Published: 2020-05-30 18:13:03
Rating: 4.0/5⭐
Willowood a text-based RPG built in Quest where you'll be taken to an unfamiliar town in an unfamiliar world, in search of the truth behind what makes it tick! Gameplay focuses around minigames, meeting (and feeding) a colorful variety of characters, and establishing yourself as a member of the community while learning about the things it has to offer!

Fetish content in this game focuses primarily on oral vore, weight gain, and cartoon physics. The player is able to be pred or prey, and can toggle the ability to encounter both types of scene off if they so wish.

My pages are here!
Furaffinity: https://www.furaffinity.net/user/afreshpupcake/
Patreon: https://www.patreon.com/AFreshPupcake
Discord: https://discordapp.com/invite/DFEWQ75

The game is free, but if you enjoy it, I immensely appreciate any support you may want to toss my way via Patreon! Otherwise, I'd just love to hear your thoughts and reactions to the game personally!
Oral Vore (OV) (73) F/m (44) M/f (32) F/f (46) M/m (37) Furry (51) Fatal (63) Reformation (20) Food Play (19) Soft Vore (71)
This game is available for free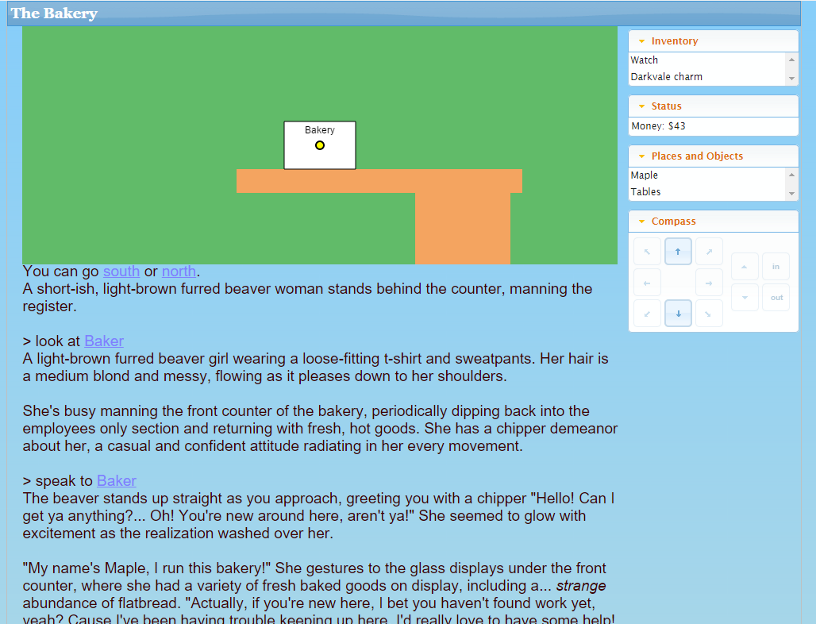 By: Goldspark1
Score: 4.0/5⭐
Date: 2022-04-30 16:59:53
Review:
First off, thanks for making the game free to play. The game is still in development and makes sense that you want to show off what you made. We of the vore game community are not considered the largest audience in the world. So if you want feedback, good idea is to have the game released in stages with the latest version being accessed by Patreon users. A nice balance to have people play the game and get feedback without feeling the need to pay you.

Now on to the game itself, great job on the music and sound effects. The upbeat music at the start really does put you in a good mood and wanting to explore the new town. The swallow and vore effects are also a great touch.

One thing that really divided me is all the different choices for what your character looks like. On one hand, love the creative freedom this offers. You could be anything you want at any size you want. A dragon that towers over everyone to a small mouse only two feet tall and coming up to most peoples waist. On the other hand, having to write so much different dialogue for all the different species players can come up with can be VERY time consuming. Especially as the game gets longer, more and more different dialogue is needed to be written. This can be a problem as I felt my avatar in the game did not matter much. You do not read how your character must bend in to fit in between the doors. Or how the doors are five times your height and have to jump to reach the handle. Just feel like this is too ambitious for a single developer. Maybe have a select few species the audience can play as and focus your writing on them. In time, when the game becomes more complete, adding more species. Providing a reason to go back and play the game again. (Did enjoy how if you are small that your belly would weigh you down and would have to digest your prey before being able to move).

Do enjoy how the text has bold. This helps get the audience member to pay attention to critical information.

Was surprised how much I enjoyed the combat. Yes, a little simple but oh so satisfying. First, like the music for the battle. Just the right amount of laid back but suspense. Second, like how there are different ways to attack. Yes, you could just mash the attack but you could also do parry's. Not only avoiding damage but possibly getting a free hit. If the game continues, would love to see a gym or some sort of vore instructor you can go to train your attacks to do more damage, evade attacks, or better parrying. Maybe even possible to end the fight in one vore move (only if extremely lucky and well trained).

Also really enjoy the increased difficulty. Once you master the basic recipes for the pastry place, more recipes are unlocked and the minigame becomes harder.

Also really enjoyed how each character had a different reaction to what food you game them as a gift. What a simple but effective way to make friends.
---