Published: 2020-05-31 07:55:28
Rating: 4.9/5⭐
Saint Miluina's Vore Academy is a text adventure game where you play as a new student attending the titular vore-centric college. As you advance through the year you'll hone your skills by taking classes, build relationships with your classmates, and get into all sorts of vore related shenanigans! This is more than just your run of the mill choose your own adventure story: MVA features stats for your character and her relationships with other students, interactive vore encounters, and branching consequences for the choices you make. Will you eat your way to the top and make it to the end of the year, or will you end up padding out one of your classmates?

This game contains: Player as both pred and prey, Oral Vore, Anal Vore, and Unbirth. All content is F/F, with exclusively human characters.
Oral Vore (OV) (47) Anal Vore (AV) (24) Unbirth (UB) (21) F/f (32) Human (20) Fatal (45) Sexual Content (39) Soft Vore (44)
This game is available for free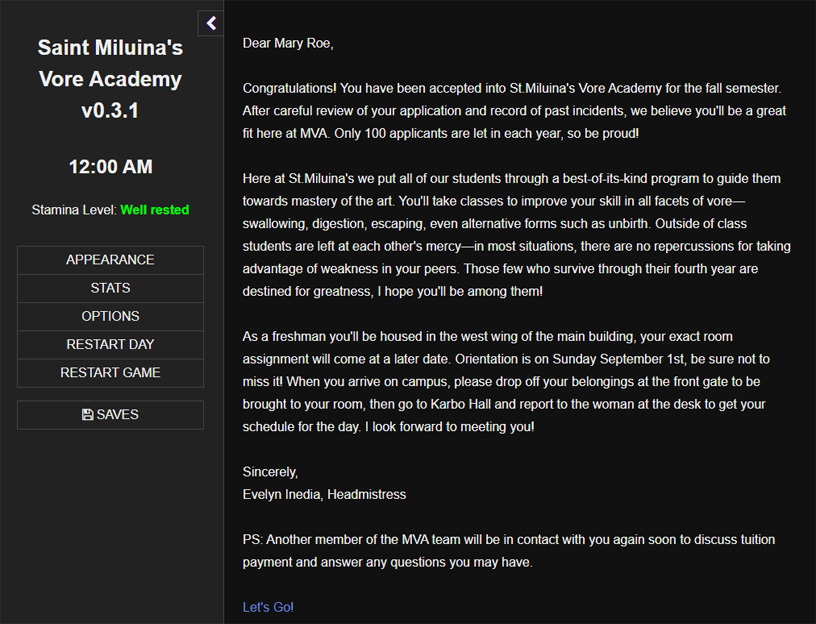 By: Ardebee13
Score: 5.0/5⭐
Date: 2021-05-20 22:21:44
Review:
so much depth! how can they create so much?
---
By: heromc
Score: 5.0/5⭐
Date: 2021-04-12 23:22:56
Review:
Amazing game that is weeell worth a play! Great characters, and it's clearly going to be an extremely interesting experience as more content gets added!!!
---
By: Justin
Score: 5.0/5⭐
Date: 2021-02-01 18:17:43
Review:
A game so good it actually got me into text based games as a whole. As well as making an account for this website. After playing multiple vore games I have to say this is the new gold standard. Though if you want to get the real feel for it I highly advise you to join the forum on aryion.com since it has character models for most of the characters.
---
By: mann.co
Score: 5.0/5⭐
Date: 2020-11-20 07:51:27
Review:











---
By: CMao
Score: 5.0/5⭐
Date: 2020-10-31 07:57:07
Review:
Fantastic
---
By: thelandcruzer
Score: 5.0/5⭐
Date: 2020-08-29 04:39:37
Review:
One of my go to games.
Going to be very lengthy development. (4 years of college if you make it)
Some content will be added in future updates (ie: unbirth = maybe add in the next in game semester. )
Expect a very long development time.
---
By: Radkaty
Score: 4.0/5⭐
Date: 2020-08-20 17:12:49
Review:
Very gret!!
---
By: Josh
Score: 5.0/5⭐
Date: 2020-08-20 00:14:49
Review:
How do i do unbirth also good game
---
By: M
Score: 5.0/5⭐
Date: 2020-06-07 16:58:34
Review:
A very replayable game with plenty of choice and scenes to find. The emphasis on player choice will suite a variety of vore tastes. Optional incorporation of the character images into the program would be desirable in future updates, as well as just adding to the variety.
---
By: Mana
Score: 5.0/5⭐
Date: 2020-06-04 17:10:20
Review:
An excellent game, 10/10, would recommend and will try to keep myself up to date with updates!
---
By: TrashMammal
Score: 5.0/5⭐
Date: 2020-06-04 12:55:31
Review:
Top tier writing with a lot of different paths to take
---