Unbridled Hedonism
Published: 2020-06-04 21:58:11
Rating: 4.7/5⭐
Unbridled Hedonism is a sandbox game set in a college at the moment (more locations will probably be available later). You control a single character of your own creation, and move around in and interact with other characters. Other characters act on their own and can do anything the player can do, driven by AI. A lot of the content at the moment is centered around vore and sex, but it will be continued to be fleshed out. You can also change your character or modify the world during the game.
This game continues my design goals from the previous game, in that the game is highly customizable. Things like having an all-female university, whether or not digestion is allowed, reformation, or even completely disabling vore or sex are all supported options.
Oral Vore (OV) (60) Cock Vore (CV) (25) Anal Vore (AV) (27) Unbirth (UB) (23) F/m (36) M/f (29) F/f (38) M/m (32) Human (25) Endo (20) Fatal (53) Sexual Content (47) Scat (16) Safe (23) Reformation (15) Soft Vore (57)
This game is available for free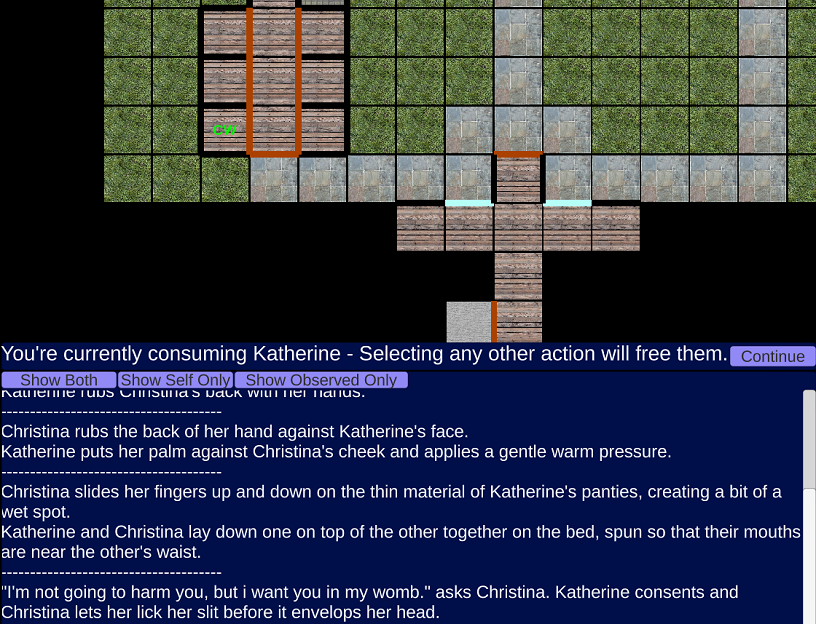 By: Amora Silversprak
Score: 4.0/5⭐
Date: 2021-09-16 13:48:53
Review:
Enjoy the heck out of this game. My only issue is I had to look up online a few of the sexual orientation terms I never seen before.
---
By: Anonymous
Score: 5.0/5⭐
Date: 2021-05-18 21:45:32
Review:
Very customizable, easy to add more races
---
By: Bloodrayne
Score: 5.0/5⭐
Date: 2020-09-16 05:35:39
Review:
This is just amazing-
---