Tsumi Umi Sushi
Published: 2020-06-11 16:11:01
Rating: 5.0/5⭐
Tsumi Umi Sushi is a replayable game where you control Tsumi, an executive for Shrinkex. In the future shrinking technology has become possible. Due to limited resources, people were given incentives to be downsized and live their life out as tinies. Tinies deemed a burden on society (such as bankruptcy/criminals) would lose their citizenship and their recognition as a protected person... With many ending up at the mercy of the rich like Tsumi.. ending up in places such as sushi!


Other Features:
- Voice Acting: Tsumi is voiced in quite a few events!
- Filters: You can toggle how far content goes.
- Randomization: From Events, Conversations to NPC spawns etc!

This game is updated monthly, as such the Patreon version will
always be the most up to date. The free version has a lot of
content and is a good indicator if this is the type of game for you.

Created by Daichi777.

Click below to be taken to the download & discussion pages:

https://www.patreon.com/daichi777

https://giantesscity.com/forum/viewtopic.php?f=64&t=151437


Oral Vore (OV) (66) F/m (39) F/f (41) Human (29) Endo (20) Fatal (58) Sexual Content (52) Scat (16) Safe (24) Macro (17) Micro (27) Shrinking (22) Food Play (17) Feet (16) Humiliation (14) Soft Vore (62) Full Tour (13) Digestion (49)
This game is available for free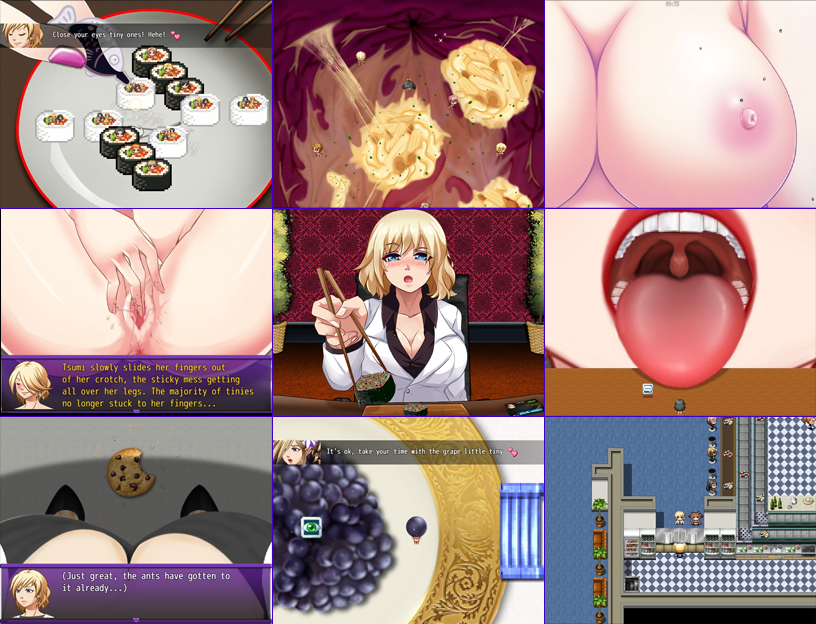 By: VoreLover
Score: 5.0/5⭐
Date: 2022-03-09 16:11:09
Review:
how i can download this game?

---
By: MELODYLOLOLOVORE:)
Score: 5.0/5⭐
Date: 2021-02-06 01:41:34
Review:
<@
---
By: Cali
Score: 5.0/5⭐
Date: 2020-08-09 00:39:14
Review:
The game is exceptionally high quality, and receives constant updates. Fun minigames to integrate vore, allowing people to enjoy the game as a game (while at the same time enjoying the more lewd content).
---