Published: 2020-08-02 12:10:46
Rating: 4.7/5⭐
Talking Head is a chat and RP bot based on Twine and it's mechanic of passages inside passages. So, using some variables and random, the bot is generating some hot vore posts for the player. There's several patterns and hundreds of possible versions for every pattern. I'm doing my best to give the player as much variety as possible, adding new patterns and improving old ones with each new version.

Right now only one part of the bot is ready enough to share and show. It's pre-vore teasing. But in the final version the bot will be able to perform a complete vore rp with teasing, description of vore and digestion, post vore mocking etc. And play as any character, changing it's name, gender and description details.

So, I hope you enjoy this prototype. Follow my Furaffinity and Ariyon galleries for latest versions and sneak peeks of new mechanics. Talking Head became too complex and huge to test everything before releasing the new version. So, report bugs if you encounter any.

https://www.furaffinity.net/user/dustmane/

https://aryion.com/g4/view/536811/

Oral Vore (OV) (66) Cock Vore (CV) (25) Breast Vore (BV) (7) Anal Vore (AV) (29) Unbirth (UB) (24) F/m (39) M/f (29) F/f (41) M/m (34) Sexual Content (52) Soft Vore (62)
This game is available for free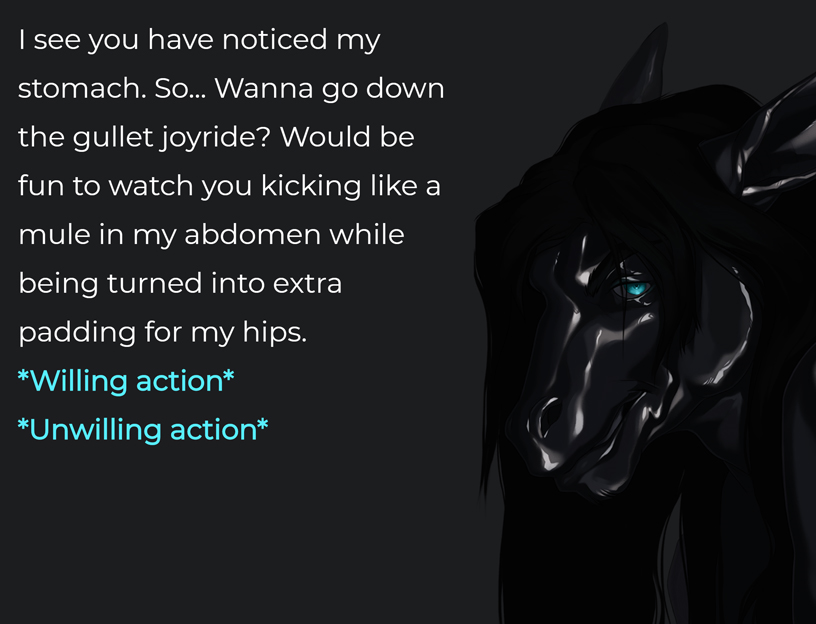 By: balance99
Score: 3.0/5⭐
Date: 2022-11-07 02:24:08
Review:
You never get devoured no matter how many willing actions you do for the kink you are in.
---
By: a13199494799
Score: 5.0/5⭐
Date: 2022-09-11 16:12:32
Review:
verygood
---
By: baldmonkey
Score: 5.0/5⭐
Date: 2021-08-29 15:08:15
Review:
This is awesome! I played with both Daisy and Blackmane, they seem to respond getting more into you depending on your answers. That's amazing. Very well done! thank-you.
---
By: Jason Medd
Score: 5.0/5⭐
Date: 2021-05-15 12:47:50
Review:
10
---
By: shadow
Score: 5.0/5⭐
Date: 2021-02-19 11:12:05
Review:
Nice
---
By: Jacob
Score: 5.0/5⭐
Date: 2021-02-11 05:40:32
Review:
this is so good I can't express it with words
---